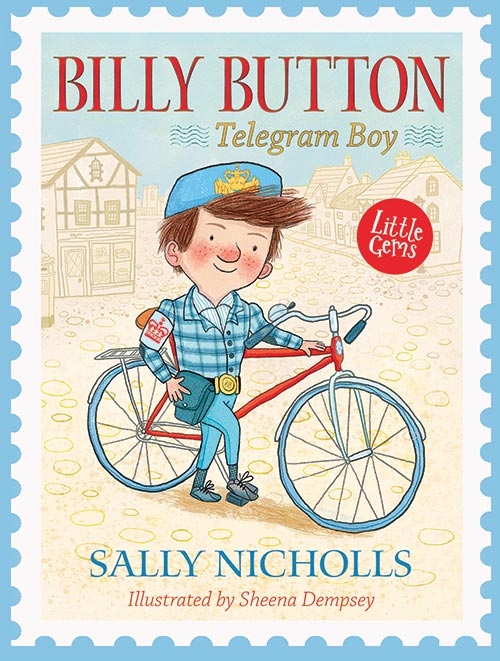 When Charlie the telegram boy breaks his leg and can't ride his bicycle, Billy Button sees his chance. He has always wanted to be a telegram boy, delivering messages all over the village on the red Post Office bicycle. Soon Billy is zooming about all over the place with news of new babies, sick sisters and sweethearts coming to visit. He even has a chance to put a few things right with a special 'extra' telegram or two. 
'Billy Button: Telegram Boy' is aimed at children aged 5-8. It's part of Barrington Stoke's Little Gem range, which if you have children in this age range, I would highly recommend you check out. They are perfect for children just beginning to read chapter books, highly illustrated, printed on very high quality paper and featuring stories and pictures by some incredible authors, including five children's laureates. They also use dyslexic-friendly paper and font, but they are very much intended for everyone.
About Billy Button: Telegraph boy
It's not that long ago that it was normal for children to have jobs. Apparently in some mills, the date you were old enough to start employment was the date your head was small enough in relation to your arm that you could get your arm over your head and touch your opposite ear. (Babies' arms are about as long as their whole head – weird I know, but true. You can manage the ear thing aged about eight.)
When researching Billy Button: Telegram Boy, I went to the British Postal Museum and was given a whole folder filled with reminiscences of real-life telegram boys (and girls). It was fascinating. In larger city post offices, telegram boys would wait in a big room to be given jobs. During both wars, they would have to deliver telegrams telling families that their husbands or sons had been killed or injured. In those cases, they'd be told what the telegram said, so they knew not to wait for a reply. They'd be told what to do if the recipient fainted or had hysterics, and sometimes they'd have to knock on neighbours' doors to find someone to sit with the recipient. One telegram boy even had a story about the day the post office received the telegram saying his own father had been killed.
There were some fun stories too. The boys got up to all sorts of mischief, including lots of fights, and did plenty of coming home the long way round so as to avoid having to sit and wait in the office for new telegrams to come in. If they got in trouble, they had to write letters of apology to the Post Office.
Reviews
"There are moments of lovely humour, underscored by the delightful illustrations of Sheena Dempsey and the text and pictures marry together beautifully to make this a really gorgeous little tale."